When you purchase any instrument and/or accessory on this site, you are purchasing from a worldwide respected repairman and instrument designer…. I personally set up and/or design most the instruments and products….. I have repaired instruments for many of the world's greatest saxophone & clarinet players. I have designed and manufactured instruments with the following brand names: Kenny G Saxophones & Accessories, Rheuben Allen Saxophones® & Accessories, Paris Master Model® Clarinets, AV Prestige® Clarinets & Accessories, Count Basie Band Instruments (No longer in production), Ronnie Laws saxophones (No longer in production) just to mention a few….. I have US patents on clarinet and saxophone accessories… So, if you want to purchase your instrument from someone that knows about woodwinds, then you have come to the right place.
Michael Brecker, Gerald Albright, Kenny G, Dan Higgins, Branford Marsalis, Dave Koz, Wilt Chamberlain, Kirk Whalum, Gary Foster, Maceo Parker, "Doc" Kupka, Emilo Castillo, Mindi Abair, Lanny Morgan, Bernie Fleischer, Med Flory, John Banbridge, Greg Smith, Beverly Dahlke, Greg Huckins, John Klemmer, Nestor Torres , Shannon Kennedy
CBS2 Los Angeles & KCAL9 Los Angeles News Story on Rheuben
https://losangeles.cbslocal.com/video/4883717-steam-meet-a-saxophone-maker/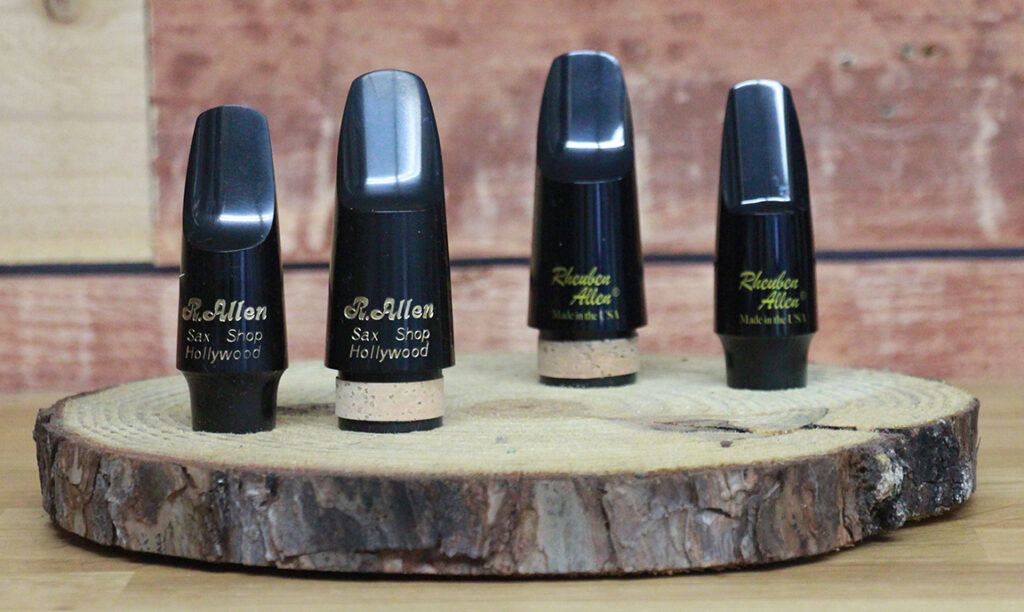 I have 4 new products: Bass Clarinet Mouthpieces in both Acoustic Plastic and Hard Rubber… C-Melody Saxophone Mouthpieces in both Acoustic Plastic and Hard Rubber… Look under Clarinet or Saxophone Accessories to pourchase these products….

We specialize in saxophone and clarinet repairs…. I have over 50 years as a world renowned saxophone and clarinet repairman… inventor and designer of woodwind instruments and accessories…. many of them available on this site….. please brouse and don't forgert to ask me any questions you might have about woodwinds…..
Carlos is playing one of my 92% Copper Necks with the Sliding Weight System on his Kenny G Saxophone.. he sounds great….
Our prices are fair and the work as good as it gets!
*We welcome all levels of players…. If you have played a week or 60 years, if you are a professional or beginning student…. Again, you are welcome.
50% of the net profit from all sales on www.rheubenallen.com goes to the Rheuben Allen Music Education Foundation to help deserving young people get musical instruments….